We are the leading suppliers, processors and Exporters of Kalonji oil and Kalonji Seeds which are usually referred with names like Nigella Sativa, Black Seeds, Habbah Sauda in Arabic, Nigelle in French, Kalounji in Hindi and fennel flower or Black Cumin or Black Caraway in English. With best processing facilities we provide 100% pure Cold Pressed Kalonji Oil processed from Kalonji Seeds (Nigella Seeds) that find its application in ayurvedic and as an individual in various ways.
As a herbal plant, Kalonji is a form of bush that grows in Ethiopia, Syria, Turkey, Egypt, India & Bangladesh. This medicinal plant was brought to India by the physicians. The Seeds of Kalonji plant, also known as or Nigella Seeds or Black Seeds, are the small Black Seeds possessing severe pungent smell and considerable amount of oil. These Kalonji Seeds are considered one of the greatest healing herbs of all times that are being used for their medicinal values since 4000 long years in history. Kalonji, both in the form of seeds and oil has been used through millennia TO STRENGTHEN IMMUNE SYSTEM, TO CLEAN THE BODY, TO PURIFY THE BLOOD, FOR PROTECTION AGAINST IRRITANTS AND TO SUPPORT HEALTH LONGETIVITY. Also called as Black Cumin Seeds or Black Caraway Seeds. The Seeds of Kalonji possess unique nutritional composition of numerous essential fatty acids that can best help with respiratory ailments, to improve the skin, and to address digestive conditions. As good sources of calcium, sodium, iron and potassium, these are known for their anti-histamine activity, anti-inflammatory, anti-tumor usage, anti-bacterial properties and lactation promotion action.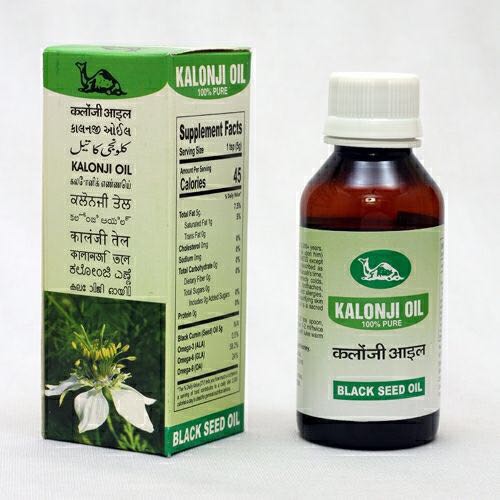 Available in 50 ml, 100 ml and 200 ml packing.
DEALERS / DISTRIBUTORS ENQUIRIES SOLICITED
Application in pharmaceutical industries in various ways.
The Kalonji Oil or Black Seed oil is a magical bullet which can best treat health ailments like hypertension, diabetes, cataract, asthma, severe cough, polio, paralysis, arthritis, rheumatic pain, headache, earache, tooth pain, epilepsy, jaundice, cancer, psoriasis and other health problems like uterus problems, skin diseases, diseases related to women and brain problems.